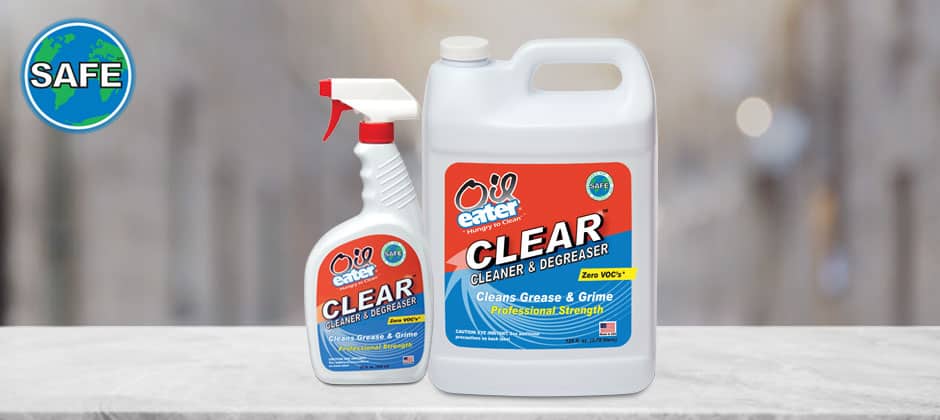 Oil Eater® Clear™ Cleaner & Degreaser
Fragrance Free – VOC Free – Ideal for Food Processing Facilities
Works great cleaning:
Engines and engine bays
Parts and tools
Grills and grease filters
Concrete floors and driveways
Carpets and floors
Sinks and countertops
And more!
Can be used in:
Floor scrubbers
Dip tanks
Carpet extractors
Pressure washers
Parts washers
Steam extractors
Foamers
Oil Eater® CLEAR is a ZERO VOC, highly concentrated, alkaline waterbased cleaner designed specifically to be versatile and powerful. When used as directed Oil Eater® CLEAR meets or exceeds the most stringent of VOC standards and regulations. Most importantly, CLEAR achieves this standard without sacrificing the superior cleaning of the Oil Eater® brand. Additionally, CLEAR is non-toxic, biodegradable, non-corrosive & SAFE for the environment.
Ultra concentrated
Superior multi-surface cleaning
Waterbased
Non-acidic
Excellent performance
Superior value
Part Numbers
AOD3203600 – 32 oz. Spray Bottle
AOD1G03601 – 1 Gallon Bottle

Toll Free: 800-528-0334 | Phone: 847-763-0333 | Fax: 847-763-0334
Address: 3555 West Howard Street Skokie, IL 60076-4052
E-mail: sales@oileater.com